The Best eCommerce Platforms in 2022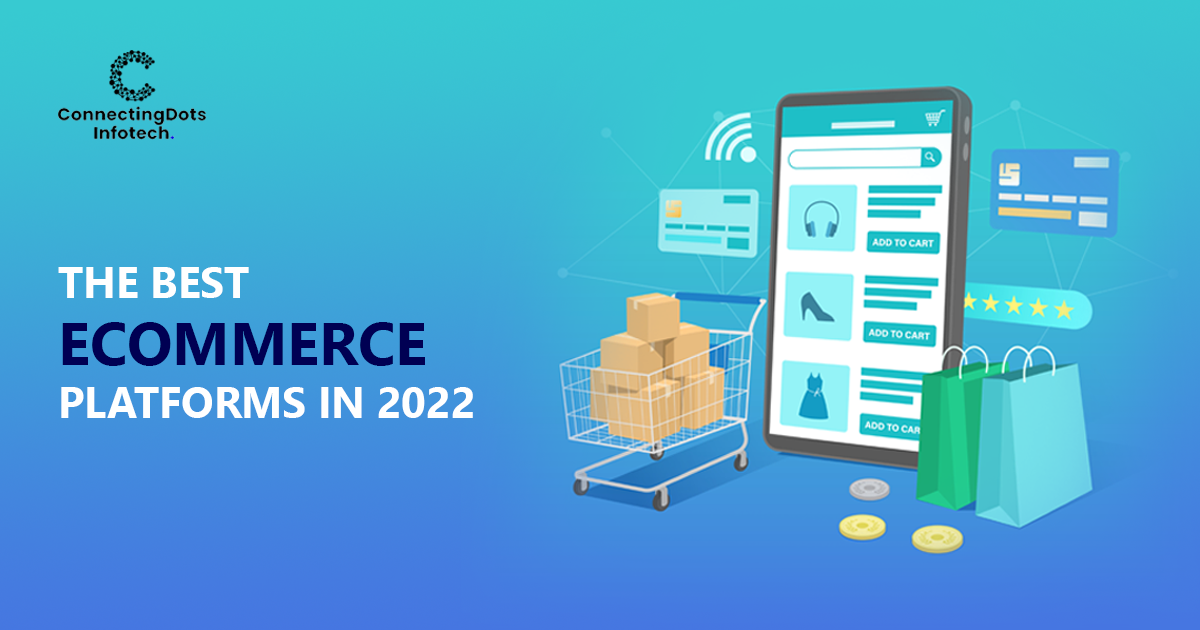 Are you looking for an eCommerce platform to open an online store for your business? Choosing the right eCommerce platform can be a difficult undertaking, particularly if you aren't familiar with technical or eCommerce challenges.
People who are trying to make a good internet business presence find it challenging to identify and pick a platform that can best meet their needs with so many options available.
In this article, we have discussed all the key features of an eCommerce platform along with the top 10s for 2022.
What is an eCommerce Platform?
An eCommerce platform is an application to construct and build an online experience that enables you to sell and deliver products regardless of where your consumers are or where they choose to shop.
While most individuals consider an eCommerce platform to be nothing more than a tool that allows them to list items and receive payments online, a true eCommerce platform is much more than that. Your platform should serve as a comprehensive command center for your firm, allowing you to manage everything from inventories to advertising. It should not only allow you to accept payments, but also provide you with better accessibility to all of the tools you'll have to sell online, including your own online shop.
An eCommerce platform is essentially an online retailer's core. The eCommerce software platform includes tools that enable businesses to create a branded digital shop where they can advertise and sell their goods and services.
To manage backend activities such as accounting, order processing, inventory control, and customer support, an online firm, like any other business, needs extra software.
It is feasible to put together many various software solutions to make a full platform, but this is a time-consuming procedure that will require frequent maintenance and result in inefficient functionality on your website.
What are the Best eCommerce Platforms in 2022?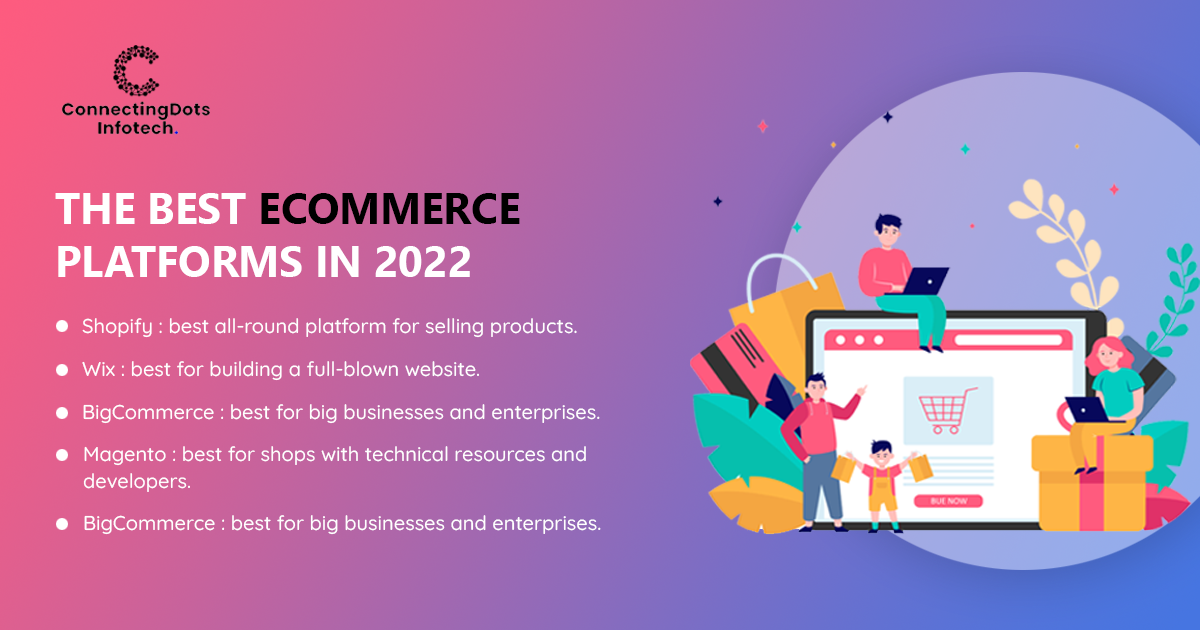 1. Shopify
When it comes to online commerce platforms, Shopify is among the first brands that immediately springs to mind. Shopify is among the most popular eCommerce systems in India, with more than 90,000 stores.
2. 3dCart
3dcart is a cutting-edge eCommerce online business platform that gives small and large businesses alike everything they need to sell online. If you're seeking a low-cost, feature-rich self-hosted internet store, 3dcart might be the right fit.
3. Wix
Wix is a user-friendly site builder platform that also offers hosting services and domain registration. You can create a basic site for free, but if you want to use Wix's eCommerce tools, you'll need to switch to a premium plan. Wix is a simple drag-and-drop platform for those who don't like to code. A huge variety of plugins and extensions are available.
4. WooCommerce
WooCommerce is a WordPress-based eCommerce plugin that is free to use. The plugin is open-source, and the basic features for setting up an online store are available for free. WooCommerce is a completely free eCommerce platform plugin. However, if you require more advanced functions, you will need to purchase add-ons.
5. OsCommerce
osCommerce is another widely used platform. It also has a sizable user base and a very active community. Some users, however, believe that platform improvements have not kept pace with the trends.
6. Drupal Commerce
After WordPress, Drupal is the 2nd most common open-source website content management platform. Its smooth Drupal integration makes setting up a blog or forum far easier than with many other content management solutions.
7. Opencart
Another open-source eCommerce CMS is Opencart. It offers one of the most user-friendly backends. However, in comparison to the other platforms described, its support mechanisms are not as extensive.
8. BigCommerce
Bigcommerce is another powerful platform, with 17 percent of the top 100,000 sites employing hosted eCommerce solutions and more than 70,000 sites developed on the platform altogether.
9.  Zepo
Zepo, situated in Mumbai, currently services over 1200 eCommerce companies and secured an unspecified amount of money in December 2014 to further its expansion aspirations.
10. Kartrocket
Delhi-based KartRocket has more than 1900 shops on its network, and in January 2015, it received a nearly $2 million investment to fuel its expansion and develop unique and India-focused solutions and services.
What are the Key Features of an eCommerce Platform?
There are numerous eCommerce platforms available for you to pick from. So, how do you choose the best eCommerce platform for your company? When looking for the best eCommerce platform, there are 7 crucial features to look for.
Ease of Use
You have to be honest about how much time you're willing to invest in learning how to use an eCommerce software before adopting it. If you don't have a lot of technical knowledge, make sure the platform you pick is easy and uncomplicated to use. You should be able to develop a great eCommerce site using the platform you chose without having to use a lot of patience.
Payment Processing
Multiple payment choices will reduce friction during the checkout and boost the likelihood of customers completing their transactions. If your website is international, you'll want to be sure that your eCommerce website not only allows common payment methods like PayPal, Mastercard, and Apple Pay but also local transaction gateways.
Analytics
Any eCommerce platform you select should include built-in analytics to make tracking the eCommerce KPIs that matter to your organization simple. You'll want to keep track of average order value, revenue conversion rates, client lifetime value, and churn rate, among other things. Make absolutely sure the platform you're considering integrates with a third-party eCommerce analytics product if it's ideal in every other aspect except analytics.
SEO-friendly
Not only should your eCommerce store appear in search engine results for your brand, but also for the goods and services you deliver. That implies you'll need an SEO-friendly e-commerce website. Look for solutions that allow you to utilize your own name, gather and publish customer evaluations, and add content (such as a blog) to attract organic traffic.
Mobile-friendly
The rising use of smartphones to make purchases necessitates the creation of a mobile-friendly eCommerce store. Customers should be able to navigate your site and make purchases from their smartphones with ease.
Integrations and Apps
The integrations and apps available are other crucial factors to consider while looking for the proper eCommerce platform. Integrations can enhance your eCommerce platform's capabilities and fill in the blanks for elements that your chosen platform may lack out of the box. You'll also want to be certain that your eCommerce platform integrates with your existing systems, such as email marketing, finance, and inventory control.
Support
Even the most basic and user-friendly eCommerce platform may require assistance at some point. Whenever that moment arises, you want to be able to get help quickly. And besides, if your site is down, you wouldn't want to be waiting for assistance to respond, do you? Live chat, phone, email, and self-help tools like a body of knowledge or public forum should all be available on your eCommerce platform.
Why are eCommerce platforms important to brands?
Consider a house without a sturdy foundation, which is similar to an online marketplace without a solid system. An eCommerce platform not only supports but also facilitates the expansion of an online store. Simply said, eCommerce systems are essential to the success of any online retail organization.
People generally came to bricks and mortar stores in the twentieth century to ease trades. Platforms are now being established to ease the exchange of value from decentralized networks of users, thanks to smart technologies and the internet age.
Conclusion
There is a wide range of enterprises that can profit from having their own eCommerce site where they can offer their own goods or services, from startups to startups to large businesses. Customers no longer want to go to the high street to buy things in today's highly competitive and convenience-oriented culture; instead, they prefer to shop from the comfort of their own homes, making eCommerce a versatile alternative for both companies and consumers.