Best And Most Popular CMS Platforms In 2022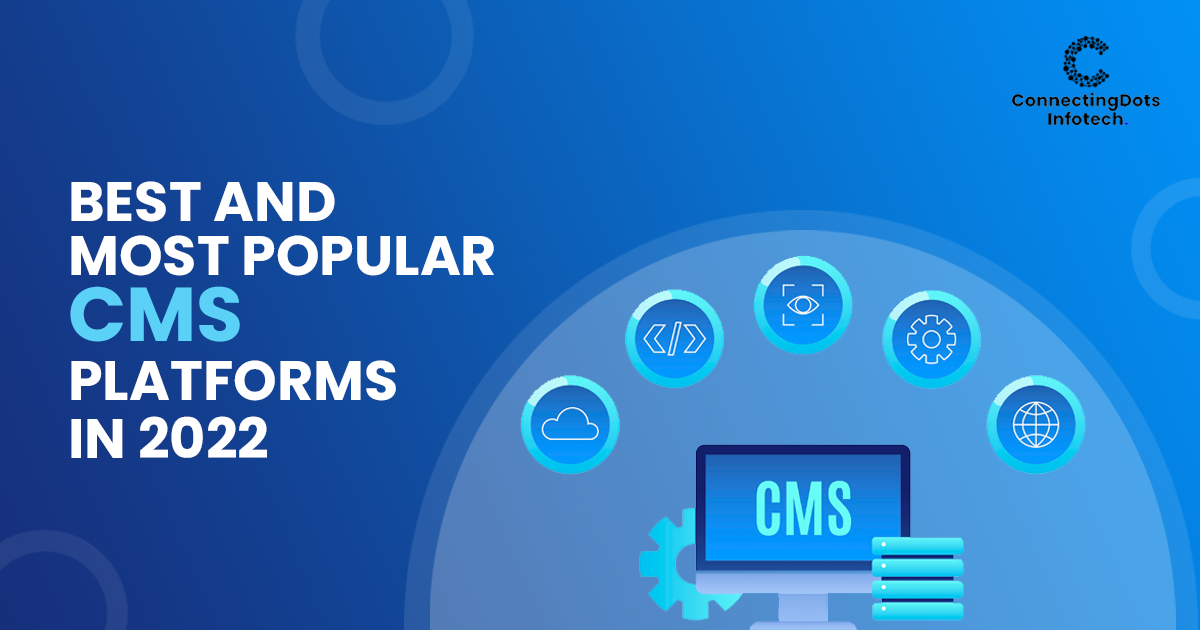 Are you looking for the best CMS for your company? If yes, this post is just for you. CMS allows you to rapidly and simply incorporate a range of web material. If your site has a large number of authors, you might choose the CMS that will give the most efficient process. CMS platforms often offer simple and straightforward interfaces that make it easier to utilize the program. It will allow both new and expert users to control the material on your website. A CMS with an easy-to-use interface will allow your marketing staff to focus on what they do best: creating content.
What is a CMS Platform?
A content management system (CMS) is used to create, manage, and optimize your consumers' digital experiences. A content management system (CMS) is a software program that allows people to collaborate on the creation, editing, and production of digital material such as web pages, blog entries, and so on. The CMS is growing from a simple tool for launching digital material to a more complex system for managing an overall online experience across several channels, including email, mobile applications, social media, web pages, and more.
Any basic website content management solution allows you to upload or compose material, format it, add headlines and graphics, and do a variety of backend tasks such as SEO. That, however, is insufficient in a multi-device, user-centric environment. Digital marketing has changed, with a greater emphasis on the consumer experience and the use of mobile applications, the Internet of Things, and other technologies. All of this is dependent on a web CMS that distinguishes between content management and content presentation.
What is the Importance of CMS in a Company?
In the internet era, we work and live in, managing and routinely updating corporate websites building is critical. Businesses without in-house developers want a simple solution that allows anybody to simply update content while preserving brand identification and messaging consistency to prospective consumers and clients.
Individuals and companies may use a CMS to modify, administer, and maintain existing site pages using a single interface, eliminating the need for specific technical skills.
When hiring a web design firm to create a website, make sure it is created on a standard CMS system, like WordPress or HubSpot. This allows your staff to make minor content adjustments while also allowing the web design business to make design and layout modifications more rapidly and affordably.
5 Best Content Management Systems 2022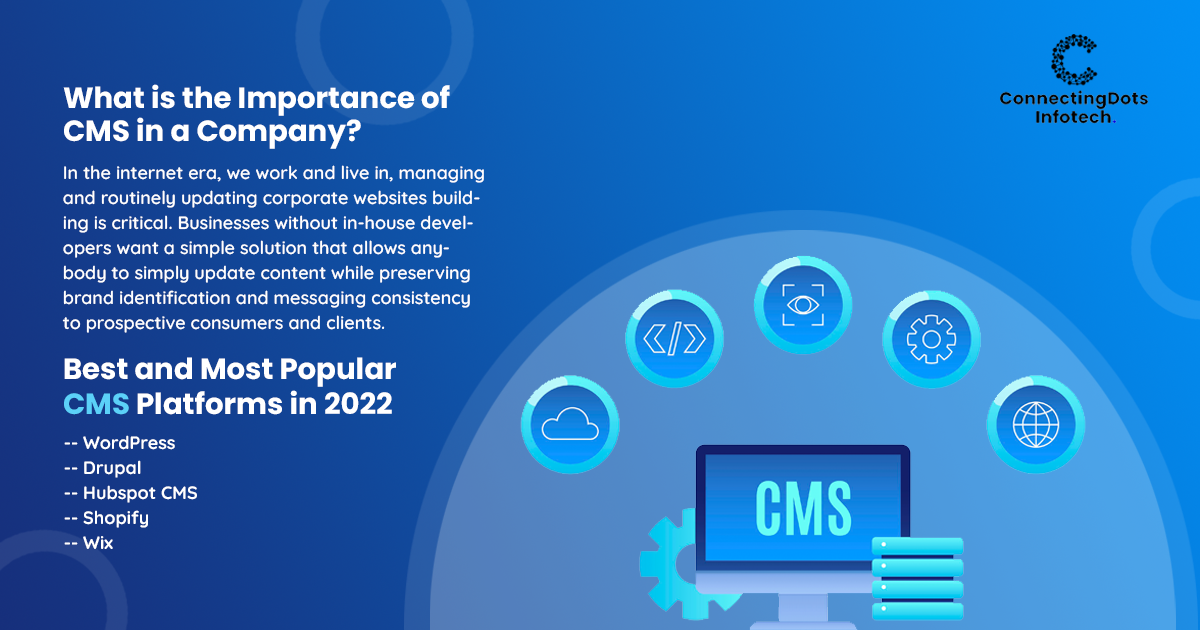 1. WordPress
WordPress is an easy-to-use, open, and free CMS platform. It's written in PHP and works with a MySQL or MariaDB database. It's also a very customizable framework with a plugin architecture and a template system. Themes are templates that allow you to swiftly change the style of your website and add new functionality. WordPress has risen in popularity to the point that you might design an eye-catching website for your small business or non-profit organization.
The biggest advantage of WordPress is its simplicity of use and management. Using the tools available with WordPress, you can simply edit your site. It is simple to use, which means you don't need to know much about programming to get started. It enables you to add widgets and plug-ins to your site to help customize it. This makes it an excellent choice for mid-sized and small company sites, but it's also an excellent choice for bigger projects.
2. HubSpot CMS Hub
To optimize your online efforts, you must create your own website that combines the benefits of HubSpot CRM with flexibility. If you don't know how to code, you can create a website in under 5 minutes with HubSpot's helpful CMS. This tool will help you organize your connections, information, and the social networks you utilize. It will also improve the usability of your website. CMS Hub is interoperable with a wide range of third-party apps. CMS Hub is also functional with a wide range of third-party applications.
CMS Hub by HubSpot HubSpot CMS Hub is linked to the ecosystem as a whole, making it easier to collaborate with other partners and make changes to the site without any need for developers. The CMS Hub includes a number of features that make it simple to manage your content. You may change the look and feel of your site at any moment by changing the theme, and powerful security measures will ensure that your site is safe to view. Despite its remarkable partitioning capabilities, you may make your own changes and even create a domain name that is exclusive to you, allowing you to operate numerous domains.
3. Wix
Wix is an internet-based website builder that was founded in 2006. It is possible to check their web design tools. Wix also provides hosting for your website. It allows you to construct your website in HTML5 or develop mobile sites with its drag-and-drop features. Wix allows programmers to create web apps, but you don't need to know how to code to use the platform. If you want to utilize your own private domain name with Wix, you must acquire a license.
Its UI is simple to use and enables you to rapidly and simply design web pages. The scaling controls, alignment guidance, and formatting tools assist you in creating the ideal website. Wix also includes an instrument bar that allows users to move and drag objects around the website. Even if you don't know how to program, you can edit the template. After you've created your website, you'll need to select the one you like most and populate it with information.
4. Shopify
Shopify is a Canadian internet marketplace. Shopify enables you to create your own online store as well as a retail system. Shopify was founded in 2006 and currently has over 2,000 clients. It is a one-stop shop for internet retailers and others. The firm has almost 100,000 clients.
The cost of utilizing Shopify is determined by the features that you desire. The application's free version includes hosting, so there's no need to buy it. However, keep in mind that the most complex features might be expensive. All options include sophisticated features such as social sharing and SEO. In comparison to other e-commerce platform systems, Shopify offers a variety of themes. The powerful e-commerce site builder allows you to create an online business from the ground up, without any programming knowledge.
5. Drupal
Drupal might potentially be used as a content management system. The most essential thing to remember is that it is entirely free. It powers the backend foundation for more than 14% of the world's top 10,000 websites. Drupal is a versatile platform that may be used to develop a variety of blogs, including personal, government, business, and political websites.  Before you can get into the benefits of Drupal, you must first understand the foundations.
It is critical to understand how Drupal works. For your main administrator account, you'll need a username and password. It is suggested that you choose a safe password because it can be used for other purposes, such as alerts. After you've established the user's account, you'll need to adjust the time, date, and language. Additional modules would most likely be required based on your company requirements.
Conclusion
Anyone who wants to create an amazing website with minimum work should try using one of the great CMS systems we previously highlighted. In practice, you won't be able to master them all, but if you can become well-versed in a few of them, you may perform better than others. There are other alternatives from which to pick, depending on the size of our company and your budget. However, keep in mind that a decent CMS will be user-friendly, allowing you to browse it effortlessly.